A little food, a little drink.
View our menu and drinks list and feel free to book a function in our spacious cafe.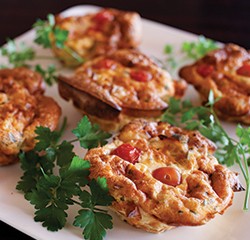 Menu
All our fish is fresh from the local boats. Wherever possible we use local produce and support local business. We bake our own Gluten Free bread. Gluten Free options for most menu items on request Breakfast – until 11am Big Brekky  Bacon eggs sausage tomato mushrooms hash brown & toast  21 Vegetarian Brekky  Poached eggs […]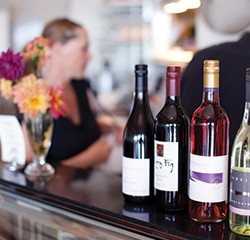 Drinks
Choose from our selection of wines, Campos coffee and Byron Bay Organic Teas. White Beach Hut Semillon Sauvignon Blanc – $6/$21 Benchmark Chardonnay (Barossa) – $7.5/$24 Angel Cove Sauvignon Blanc (NZ) – $7.5/$24 Garfish Moscato (McLaren Vale)Low alcohol 5.5% - $6.5/$22 Stonefish Verhelho (Hunter Valley) – $24 The Pawn Pinot Grigio (South Aus) – $28 Nick […]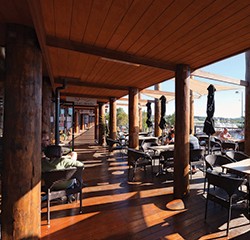 Functions
Do you have a function or large group? We can cater for groups of up to 50 people and we are happy to create a menu to suit your requirements. Whether it be a special occasion such as a Birthday, Wedding or other celebration, or simply a chance to catch up with family & friends. […]
We will be open for dinner on New Years Eve from 6pm. Bookings are strongly recommended.
What our customers are saying.
Reviewed 12 August 2012

View to die for, food brilliant, staff courteous & the entertainment turned a short stop for a quick bite into a full afternoons relaxing break from the maddening world. Thankyou folks.

- "Relax & Enjoy"

Reviewed 3 February 2013

You really need a few hours to while away here. Food is lovely and the location superb. Watching the fishing boats whilst enjoying local produce was a great experience. Enjoy

- "Location Location"

Reviewed 31 July 2012

Had a prawn laksa and Crown lager over looking the most beautiful harbour on the coast. Life is tough!!!

- "Yummy Prawn Laksa"
About the Sun Deck
Located in the Bermagui Fishermen's Wharf Complex, sit back, admire the stunning views and watch the boats come in while enjoying the best coffee in town, or try some of the fresh local fish.
We are open 7 days for Breakfast, Lunch and coffee.
Summer hours
Breakfast – 8.30am til 11am
Lunch – 12noon til 2.30pm
Coffee and cake until 5pm
At the Sun Deck, we pride ourselves on our delicious meals and coffee you come back for.
We use fresh fish straight from the local boats. Whenever possible we use fresh local produce. All our cakes are made by us and we offer a huge range of gluten free and vegetarian options. We are fully licensed so you can enjoy a glass of wine or beer and watch the fish being unloaded. Our coffee is the best around.
We use Campos Coffee who provide us with superior quality coffee beans and extensive Barista training. We also have Byron Bay Tea Company Organic Teas including their range of herbal infusions. Come and try us out!
We support our local musicians and have them entertaining our patrons with a great variety of live music on some Sundays. Check out our News & Events page or contact us to see what's on.